Behind the Brand: Roza's Gourmet
Yum. Gluten Free, 28th November 2016.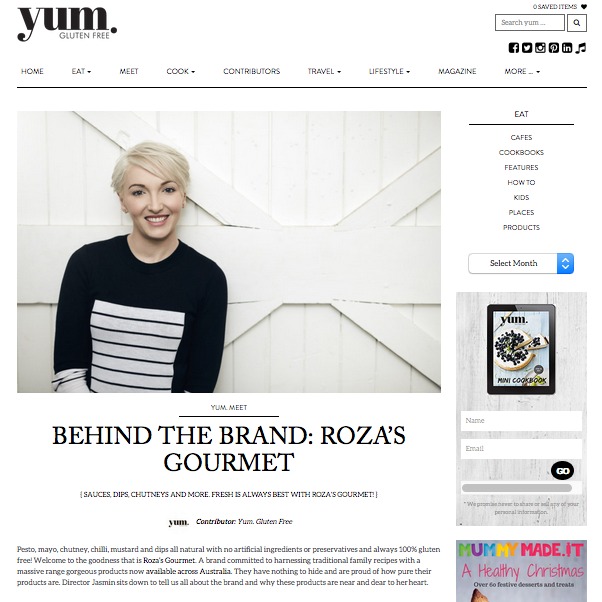 Pesto, mayo, chutney, chilli, mustard and dips all natural with no artificial ingredients or preservatives and always 100% gluten free! Welcome to the goodness that is Roza's Gourmet. Director Jasmin sits down to tell us all about the brand and why these products are near and dear to her heart.
Hi Jasmin! Tell us about yourself and your relationship with Roza's Gourmet.
Hi yum. Readers! Roza's Gourmet has always been a big part of my life. Mum started the business when I was four, so even as a little girl I remember helping her out in the kitchen by washing herbs and labelling jars. That being said, I never expected to become Director when I was older!
When I left school, I actually studied a business degree (at my Dad's insistence) and landed a graduate role in a large firm. However, corporate life didn't suit me – so I quit to pursue my passion for acting instead.
That's when Dad suggested I work part-time at Roza's Gourmet to make some extra income and alleviate the pressure on him. After a few years of trying to juggle the family business and acting, I realised I wasn't giving my all to either pursuit. I had to make a choice and I couldn't give up on Mum's business, so I took it on in 2011.