Mum's Sauce of All Good Things
Courier Mail, November 2016.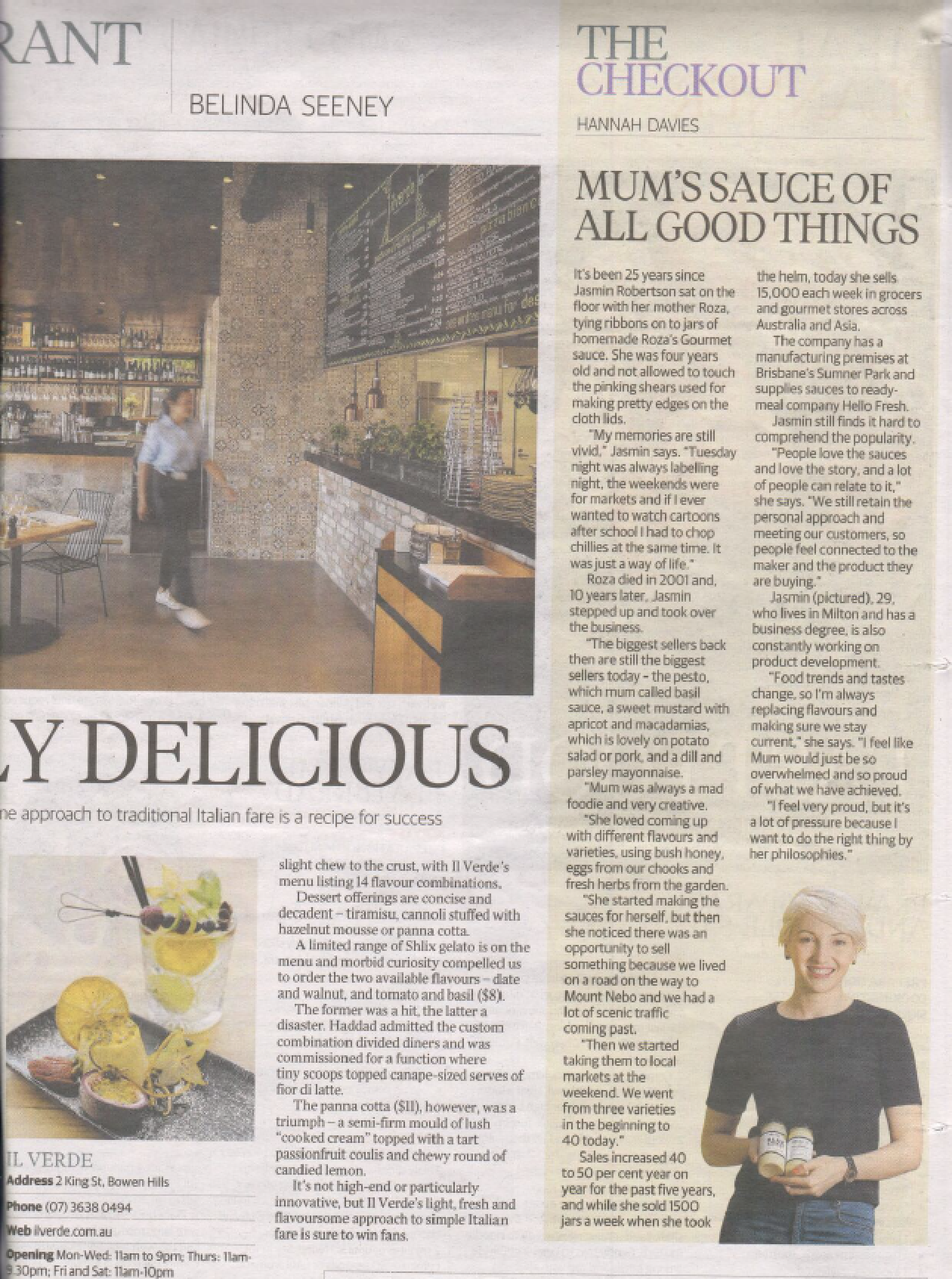 It's been 25 years since Jasmin Robertson sat on the floor with her mother Roza, tying ribbons on to jars of homemade Roza's Gourmet sauce. She was four years old and not allowed to touch the pinking shears used for making pretty edges on the cloth lids.
"My memories are still vivid," Jasmin says. "Tuesday night was always labeling night, the weekends were for markets and if I ever wanted to watch cartoons after school I had to chop chillies at the same time. It was just a way of life."
"Roza dies in 2001 and, 10 years later, Jasmin stepped up and took over the business. The biggest sellers back then are still the biggest sellers today – the pesto, which mum called basil sauce, a sweet mustard with apricot and macadamias, which is lovely on potato salad or pork, and a dill and parsley mayonnaise."
"Mum was always a mad foodie and very creative. She loved coming up with different flavours and varieties, using bush honey, eggs from our chooks and fresh herbs from the garden. She started making the sauces for herself, but then she noticed there was an opportunity to sell something because we lived on a road on the way to Mount Nebo and we had a lot of scenic traffic coming past."
"Then we started taking them to local markets at the weekend. We went from three varieties in the beginning to 40 today. Sales increased 40 to 50 percent year on year for the past five years, and while she sold 1500 jars a week when she took the helm, today she sells 15,000 each week in grocers and gourmet stores across Australia and Asia. The company has a manufacturing premises at Brisbane's Sumner Park and supplies sauces to ready-meal company Hello Fresh."
"Jasmin still finds it hard to comprehend the popularity. People love the sauces and love the story, and a lot of people can relate to it," she says. "We still retain the personal approach and meeting our customers, so people feel connected to the maker and the product they are buying."
Jasmin (pictured), 29, who lives in Milton and has a business degree, is also constantly working on product development. "Food trends and tastes change, so I'm always replacing flavours and making sure we stay current," she says. "I feel like Mum would just be so overwhelmed and so proud of what we have achieved. I feel very proud, but it's a lot of pressure because I want to do the right thing by her philosophies."