Autumn Salad
made with love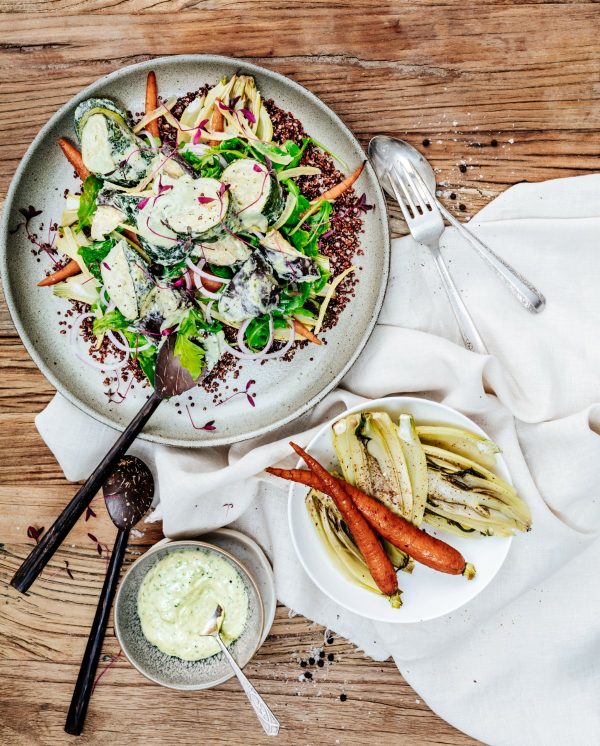 1

cup

red quinoa

4

cups

boiling water or stock

300

g

baby fennel bulb

cut in half

300

g

zucchini

cut on chunky angles

200

g

baby carrots

peeled, kept whole

olive oil

enough to coat vegetables

2

tbsp

cumin

enough to coat vegetables

1

cup

Roza's Gourmet Pesto Dressing Supreme

2

tbsp

preserved lemon rind

finely sliced

2

tbsp

red onion rings

finely sliced

1

cup

rocket leaves
1

cup

red quinoa

4

cups

boiling water or stock

300

g

baby fennel bulb

cut in half

300

g

zucchini

cut on chunky angles

200

g

baby carrots

peeled, kept whole

olive oil

enough to coat vegetables

2

tbsp

cumin

enough to coat vegetables

1

cup

Roza's Gourmet Pesto Dressing Supreme

2

tbsp

preserved lemon rind

finely sliced

2

tbsp

red onion rings

finely sliced

1

cup

rocket leaves
Add dry quinoa to boiling water/stock and allow to boil gently for 8 – 10 minutes or until the grains are tender. Set aside.

In a large bowl, coat fennel bulb, zucchini and baby carrots with oil, then sprinkle with ground cumin, then roast at 180°C for 20 – 30 minutes or until just tender. Set aside.

Once cooled a little, toss roasted vegetables in a bowl with Pesto Dressing Supreme.

In another large bowl, mix cooled quinoa with preserved lemon rind, red onion rings and rocket leaves.

To serve, spread the quinoa mix as the base, followed by roast vegetable mix and garnish with more rocket leaves and drizzles of sauce.