Indian Spiced Pita Pockets
made with love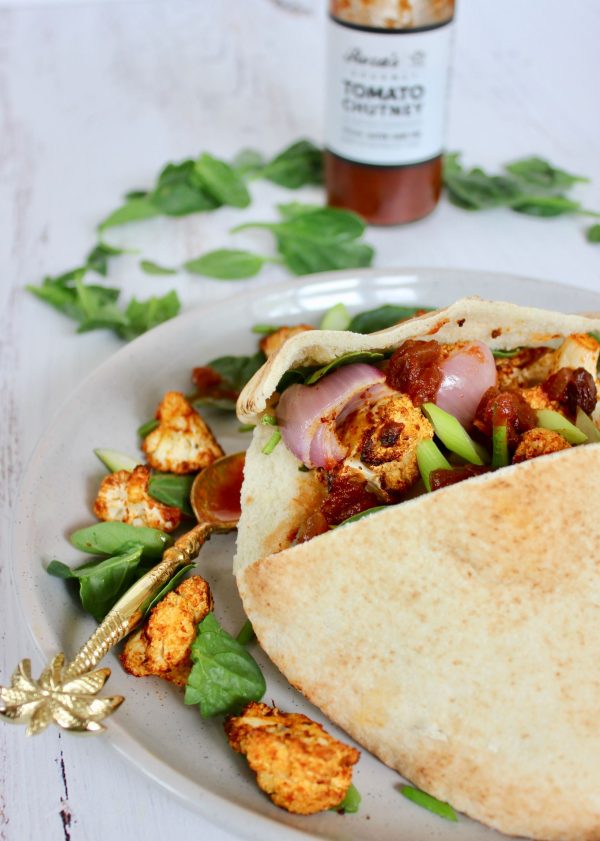 Spinach

1

Pita Pocket

1

Shallot stalk

1/2

cauliflower

broken into florets

1

tsp

ground cumin

1

tsp

smoked paprika

1

tsp

onion powder

1

tsp

garlic powder

Pinch

Salt and pepper

1/2

Spanish onion

1

tbsp

Avocado oil

1

tbsp

Roza's Gourmet Tomato Chutney
Spinach

1

Pita Pocket

1

Shallot stalk

1/2

cauliflower

broken into florets

1

tsp

ground cumin

1

tsp

smoked paprika

1

tsp

onion powder

1

tsp

garlic powder

Pinch

Salt and pepper

1/2

Spanish onion

1

tbsp

Avocado oil

1

tbsp

Roza's Gourmet Tomato Chutney
Wash cauliflower and break into florets, add the avocado oil, spices, salt and pepper, then toss all together until thoroughly coated.

Cut the Spanish onion into quarters.

Put the cauliflower and onion on a lined baking tray and drizzle avocado oil on the onion. Bake in the oven for 30 minutes on 180 degrees.

Wash and prepare some spinach and cut open the pita pocket.

Fill the pita pocket with the spinach, followed by the cauliflower and onion once it has finished cooking.

Cut up a shallot and add to the pita pocket.

Spread Roza's Gourmet Tomato Chutney over the pita pocket and enjoy!
Thank you to @maddie_bingham on Instagram for sharing this tasty recipe.