Best Beef Burger
made with love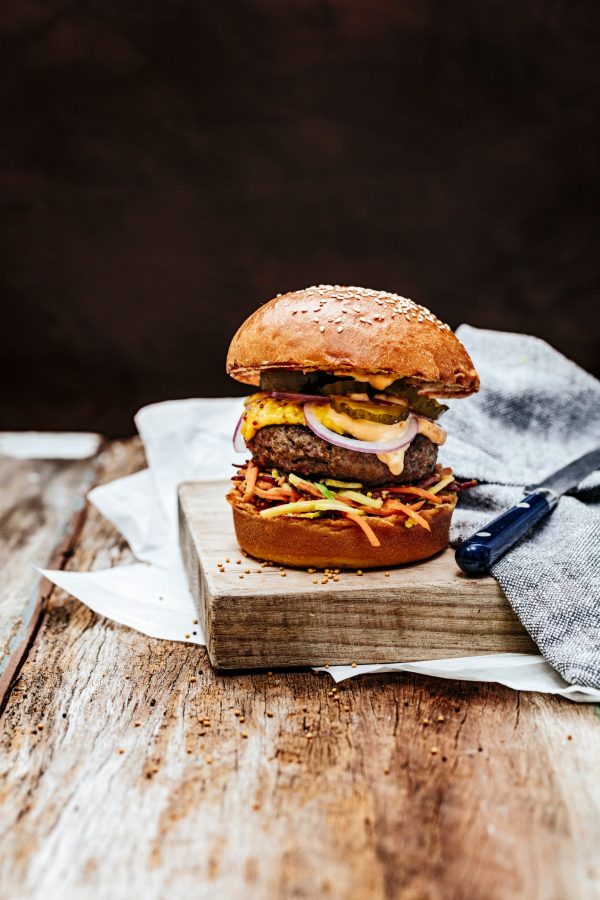 4

brioche buns

2/3

cup

mixed shredded carrot and beetroot

800

g

minced beef

4

tbsp

Roza's Gourmet Honey Mustard Pesto

4

slices

Jarlseberg chese

1/3

cup

onion rings

finely sliced

16

slices

pickled gerkin

Roza's Gourmet Habanero Chilli Mayonnaise

Roza's Gourmet Sweet Mustard with Apricots
4

brioche buns

2/3

cup

mixed shredded carrot and beetroot

800

g

minced beef

4

tbsp

Roza's Gourmet Honey Mustard Pesto

4

slices

Jarlseberg chese

1/3

cup

onion rings

finely sliced

16

slices

pickled gerkin

Roza's Gourmet Habanero Chilli Mayonnaise

Roza's Gourmet Sweet Mustard with Apricots
Split the buns and coat the inside with melted butter, toast on a hot grill pan and set aside.

In a small bowl, mix shredded carrot and beetroot with some of the Habanero Mayonnaise, so it just coats each shred. Set aside.

In a separate bowl, mix mince and Honey Mustard Pesto together in a bowl until well incorporated.

Divide mixture into 4 balls, taking care not to overwork otherwise when cooking it will just spring back into balls rather than patties.

Heat a grill pan and fry meat patties on high for 2 minutes (approx) each side or until it reaches your desired doneness.

Turn the heat off, add a slice of Jarlsberg cheese and cover with a steel bowl to rest and cheese melts a little.

Build your burger beginning with the dressed carrot and beetroot, then the cheese topped pattie. Add generous portions of Apricot Mustard sauce and Habanero Mayonnaise, then layer the onion rings, gerkins and finally the burger lid. Serve immediately.