Curried Vegetable Rolls with Mango Chutney
made with love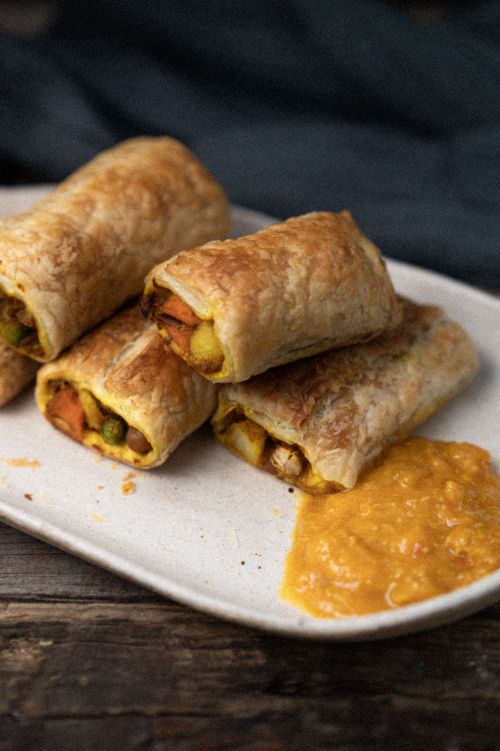 ½

cup

peas

2

potato

½

sweet potato

1

jar

Roza's Gourmet Mango Chilli & Coconut Chutney

½

tin

chickpeas

1

clove

garlic

1

tsp

tumeric

½

tsp

coriander seeds crushed

¼

tsp

fenugreek crushed

¼

tsp

celery salt

Pinch

Pepper

¼

tsp

allspice powder

3

sheets puff pastry
½

cup

peas

2

potato

½

sweet potato

1

jar

Roza's Gourmet Mango Chilli & Coconut Chutney

½

tin

chickpeas

1

clove

garlic

1

tsp

tumeric

½

tsp

coriander seeds crushed

¼

tsp

fenugreek crushed

¼

tsp

celery salt

Pinch

Pepper

¼

tsp

allspice powder

3

sheets puff pastry
Cut potatoes into small cubes. Begin frying garlic gently then add all ingredients and cook for 30 mins, adding small amount of water periodically. Cook until soft and fragrant.

Add mixture to half sheets of puff pastry and roll. Gentle brush rolls with soy milk before baking for 25 mins or until brown in 180º oven.

Serve with a generous helping of Roza's Gourmet Mango Chilli & Coconut Chutney.