Nourish Bowl
made with love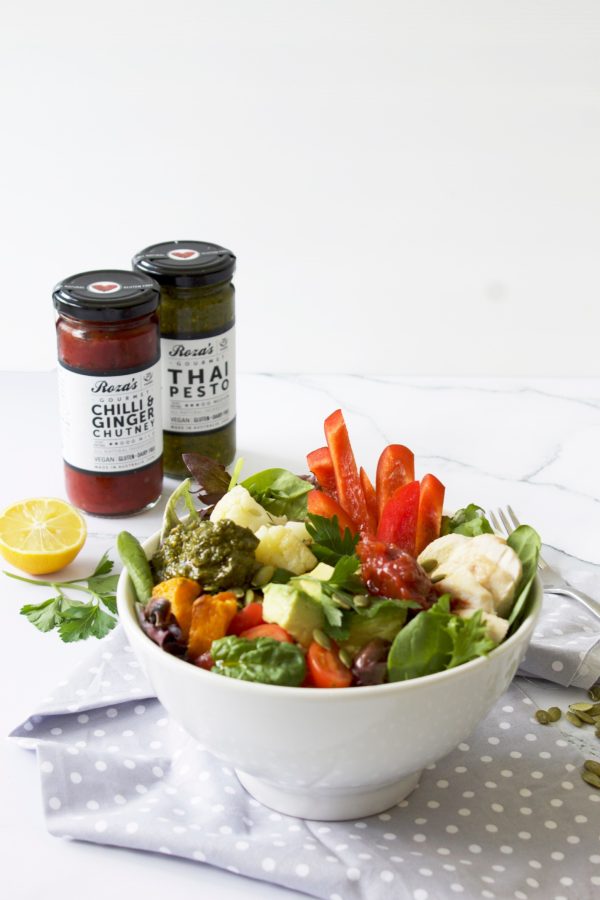 1

cup

leafy greens

1/2

cup

cooked quinoa or complex carbohydrates of choice

3/4

cup

cooked mix vegetables of choice

(e.g. cauliflower, pumpkin, zucchini)

1/2

cup

raw salad vegetables of choice

(e.g. capsicum, tomatoes, cucumber)

100

g

chicken or protein of choice

1/4

avocado

sliced

6

olives

1

tbsp

extra virgin olive oil

2

tsp

fresh lemon juice

2

tbsp

fresh herbs of choice

(e.g. parsley, coriander)

1

tbsp

pepitas

or nuts and seeds of choice

1

heaped tbsp

Roza's Gourmet Thai Pesto

1

heaped tbsp

Roza's Gourmet Chilli & Ginger Chutney
1

cup

leafy greens

1/2

cup

cooked quinoa or complex carbohydrates of choice

3/4

cup

cooked mix vegetables of choice

(e.g. cauliflower, pumpkin, zucchini)

1/2

cup

raw salad vegetables of choice

(e.g. capsicum, tomatoes, cucumber)

100

g

chicken or protein of choice

1/4

avocado

sliced

6

olives

1

tbsp

extra virgin olive oil

2

tsp

fresh lemon juice

2

tbsp

fresh herbs of choice

(e.g. parsley, coriander)

1

tbsp

pepitas

or nuts and seeds of choice

1

heaped tbsp

Roza's Gourmet Thai Pesto

1

heaped tbsp

Roza's Gourmet Chilli & Ginger Chutney
Layer your bowl with leafy greens and top with quinoa.

Arrange cooked and raw vegetables.

Add chicken, avocado and olives.

Mix together olive oil with lemon juice and drizzle over bowl.

Sprinkle with fresh herbs and pepitas.

Dollop Roza's Gourmet Thai Pesto and Chilli & Ginger Chutney.
This recipe was designed by Brisbane nutritionist and recipe developer Casey-Lee Lyons from Live Love Nourish for Roza's Gourmet.