Real Food Burgers
made with love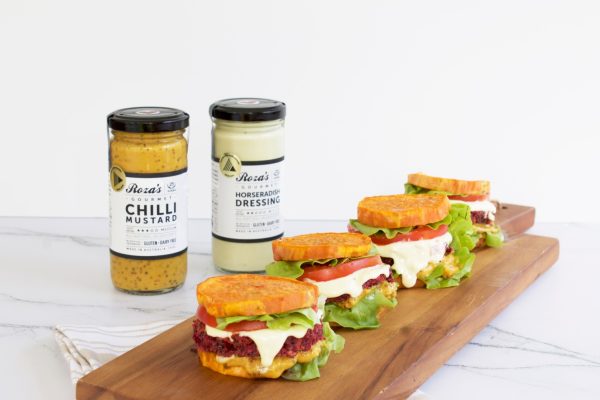 1

large sweet potato

1/2

cup

canned black beans

drained

1

cup

grated raw beetroot

1

cup

cooked & cooled quinoa

1/2

cup

cooked & mashed pumpkin

1/4

small red onion

finely diced

1

long red chilli

deseeded, finely chopped

1

tsp

ground cumin

Pinch salt and pepper

4

tbsp

Roza's Gourmet Chilli Mustard

4

tbsp

Roza's Gourmet Horseradish Dressing

1/2

cup

lettuce leaves

1

large tomato

sliced

extra virgin olive oil
1

large sweet potato

1/2

cup

canned black beans

drained

1

cup

grated raw beetroot

1

cup

cooked & cooled quinoa

1/2

cup

cooked & mashed pumpkin

1/4

small red onion

finely diced

1

long red chilli

deseeded, finely chopped

1

tsp

ground cumin

Pinch salt and pepper

4

tbsp

Roza's Gourmet Chilli Mustard

4

tbsp

Roza's Gourmet Horseradish Dressing

1/2

cup

lettuce leaves

1

large tomato

sliced

extra virgin olive oil
Slice sweet potato into 1/2 cm thick rounds (to become your burger buns).

Brush both sides of sweet potato with olive oil and place on a lined baking tray.

Bake in oven for 30-35 minutes or until tender, turning half way.

In a mixing bowl roughly mash black beans (or pulse in a food processor).

Add beans to your food processor with beetroot, quinoa, pumpkin, onion, chilli, cumin, salt and pepper. Pulse until well combined to form a textured paste.

Line a large baking tray with baking paper. Using egg rings fill each egg ring on your baking tray with patty mixture and press down to shape. Remove ring and repeat until all mixture is used up. (You can also shape with your hands).

Bake in oven for 25-30 minutes or until cooked and firm to hold.

Assemble burgers with sweet potato at the bottom topped with Roza's Gourmet Chilli Mustard, lettuce and a patty. Top patty with Roza's Gourmet Horseradish Dressing, tomato and another sweet potato on top. Serve immediately.
This recipe was designed by Brisbane nutritionist and recipe developer Casey-Lee Lyons from Live Love Nourish for Roza's Gourmet.